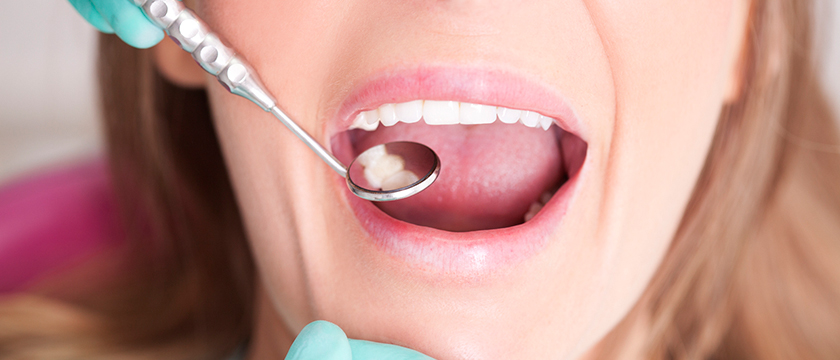 10 Mar 2021
Dental caries, commonly known as tooth decay, are the cause of one of the most common dental problems – cavities.
Dental caries originate from several strains of mutans streptococci bacteria. When these bacteria consume sugars from the food you eat, they secrete acid that breaks down your tooth's protective enamel structures. Your saliva naturally repairs some of this damage, but if too much harm is done before your saliva can counteract the problem, a cavity begins to form.
If you believe that you have a cavity, please call our office at 647-371-1894 to book an appointment. Our team will be able to examine the area of concern and recommend appropriate treatment. If caught early, some cavities can be repaired without the need for anesthetic, so be sure to visit as soon as possible!
What Causes Dental Caries?
Dental caries most frequently develop between two teeth or on the biting (occlusal) surfaces of the teeth. This is because these areas are the most difficult spots for most people to keep clean. The occlusal surfaces of teeth have deep grooves where things often become trapped, and sometimes even regular brushing is not enough to dislodge them.
Similarly, food particles often get stuck between a person's teeth. Sometimes, they remain in place long enough for bacteria to develop. When this happens, cavities begin to form at the contact points where the teeth meet. These are called interproximal cavities, and they are very difficult to see with the naked eye. Because they are hidden in tight spaces, they are also challenging to keep clean.
Cavities may stop developing for months or even years at a time, but they never go away. Once one has started to form, the only way to prevent it from getting worse is to have it treated by a dentist.
How Is a Dental Cavity Detected?
There are several methods your dentist may use to look for and diagnose a dental cavity. They might:
Ask if you have been experiencing any tooth pain or sensitivity that is unusual to you.
Perform a visual examination of your teeth.
Use tools, such as a dental explorer, to check for 'sticky' spots on the surfaces of your teeth.
Take bitewing dental X-rays to examine the interior of each tooth, look for hidden cavities, and assess the severity of any cavities found using other methods.
Some dentists choose to wait until a cavity has penetrated the patient's dentin to treat it, while others treat decay as soon as they spot it. Neither approach is superior to the other. Your dentist will use their clinical judgement and their knowledge of your oral health history to determine when to treat any cavities they diagnose in your teeth.
How We Treat Dental Cavities
There are four standard treatments for dental cavities depending on the severity of the decay that is present.
Fillings
This is the standard treatment for most dental cavities, especially small ones. To place one, your dentist drills away the decaying parts of your tooth and fills it with a tooth-coloured composite material that bonds to the edges of your tooth. This treatment lasts for years and is a quick and reliable way to handle mild to moderate dental decay.
Root Canals
A root canal is required when a cavity is deep enough to reach the pulp or nerve inside the tooth. The treatment removes the nerve inside the tooth and fills the empty space with composite material. This weakens the tooth's structure considerably, so a crown is often required. A root canal can often preserve even severely decayed teeth.
Dental Crowns
Extensive decay and root canal treatment sometimes leaves teeth too weak or damaged to be viable. In these cases, dentists can compensate for this weakness by shaving down the tooth and placing a dental crown on top of the remaining structure. With a crown, the tooth can easily withstand chewing forces and can potentially remain healthy for years to come.
Extractions
If the decay in your tooth is too advanced to be treated any other way, the tooth must be extracted to avoid a potentially deadly infection. Once the tooth is gone, your dentist may be able to replace it using a dental bridge or implant. If you have a cavity on your wisdom teeth, your dentist may also recommend wisdom tooth extraction, even if the cavity is small. You do not need these extra teeth, and it is rarely worthwhile to have them filled.
Preparing for Your Appointment
There are a few ways to prepare for your cavity treatment that can help make the appointment go as smoothly as possible.
Remain calm. Trust that your dentist will provide quality, pain-free care.
Make a list of all medications, vitamins, supplements, and other drugs or remedies you are taking, as well as their dosage. Ingesting certain substances may affect your treatment needs.
Consider whether you have had any bad reactions to medications or local anesthetics. If you have, let your dentist know.
You should also think about what questions you want to ask your dentist before your treatment begins. Some common ones that patients ask us include:
How bad is my cavity? Does it need a filling or a root canal?
Will this treatment take more than one visit?
Will this procedure hurt after it is done? What can I take for the pain?
How long should I wait to eat or drink after I leave your office?
What can I do to prevent more cavities in the future?
What to Do in the Meantime
Sometimes you may have to wait before your dentist has an appointment available to treat your dental cavities. While you wait, these things can help you maintain your oral health and manage any pain you are experiencing.
Brush your teeth with warm water and use toothpaste that is formulated for sensitive teeth.
Brush all parts of your teeth, even if it is painful to do so.
If there is a visible hole in the tooth, try to keep food particles and liquids out of it as much as possible.
If you are in pain, you may use over-the-counter pain relief medication or tooth anesthetic.
Avoid consuming food and drink that is too hot, cold, or sweet to avoid irritating the nerve in the damaged tooth.
Book Your Appointment for Cavity Treatment in Mississauga Today
If you have a cavity, it is best to get it treated as soon as possible. Whether you are an existing patient or a newcomer in need, the friendly and professional staff at Trillium Smile Dentistry are here to help you. Book an appointment at our Mississauga office today by calling 647-371-1894 and prevent your cavity from growing.